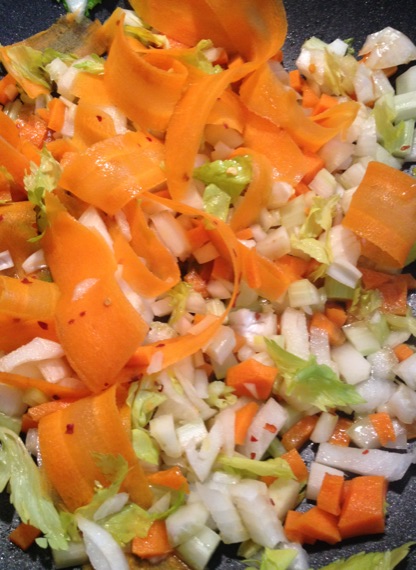 Crispy bits of smoky bacon spiced up this simple version of spicy fried rice.  This serves two very hungry adults.  For a lighter meal, measure out one cup of rice per person.  Then, top each serving with one fried egg.   Save the leftover rice (about 1 cup) for another meal.
Spicy Fried Rice
makes about 3 cups
1 large Vidalia onion
2 whole stalks of celery, diced
2 carrots, one shredded & one diced
1 Tablespoon olive oil
1 teaspoon toasted sesame oil
2 cloves garlic, finely minced
1/4 teaspoon red pepper flakes
2 Tablespoon soy sauce
2 teaspoons hot sesame oil
1-2 Tablespoons Sriracha sauce
3 scallions, thinly sliced
2 cups leftover rice
1/2 cup diced bacon, fried and drained
2 sunny side up fried eggs
In a wok, stir fry onion, celery and carrots in olive oil and sesame oil for a minute or two.  Add garlic and pepper flakes.  Stir fry for an additional minute.  Then, add rice, soy, hot sesame oil, and Sriracha.  Stir fry until edges of rice begin to take on a bit of color.  At the last minute, add bacon and scallions.  Stir to combine.  Then, remove from the heat.
Divide rice between two plates and top each with a fried egg.