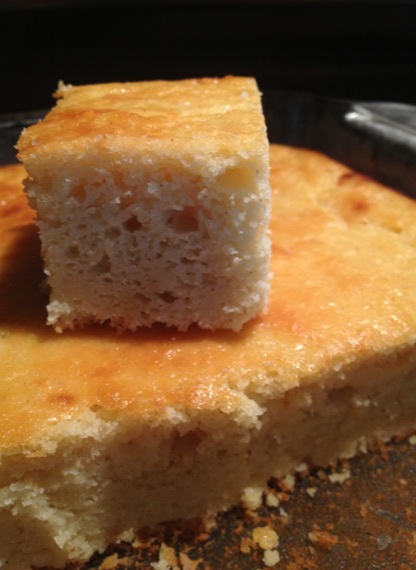 I'm running out of ways to differentiate my growing assortment of cornbread recipes.  This one is a perfect combination of moist, tender and fluffy.  And, a touch more sugar than usual almost puts this one in the dessert category.  This was perfect with eggs and chili.  It also made a yummy stand alone snack.  And, leftover cubes made a killer stuffing.  To save leftovers for stuffing, let the 1×1″ cubes sit out on the counter for an afternoon, then bag and freeze them for stuffing at a later date.
Sweet Buttermilk Cornbread
8×8 inch baking dish
8 Tablespoons butter, unsalted
1/2 cup sugar
2 eggs
1 1/2 cups buttermilk
1 teaspoon vanilla extract
1 cup  fine cornmeal
3/4 cup AP flour
1 teaspoon baking powder
1/2 teaspoon baking soda
1/2 teaspoon fine sea salt
Preheat oven to 425 degrees F.
In a large mixing bowl, cream butter and sugar.  Add eggs.  Beat until light and fluffy.  Add 1/2 cup buttermilk and vanilla.  Whip.  Set aside.
In a small mixing bowl, combine cornmeal, flour, baking powder, baking soda, and salt.  Stir vigorously to combine.  Add to wet mixture.  Fold a few turns with a spatula.  Add remaining buttermilk and fold gently until just barely combined.  Pour into buttered baking dish (8×8″) and place in  preheated oven.  Bake at 425 degrees F for 23-25 minutes.  Let cool for 10 minutes before serving