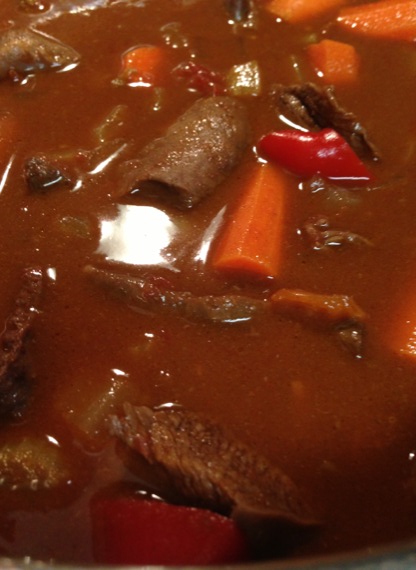 My honey is hard to impress.  He's more than a little bit spoiled.  So, when he tells me that this is one of the best stews I've ever made, it means a lot to me.  I might add another picture…  If I can grab the bowl out of his greedy fingers first, that is.  Usually, I'd use all beef.  But, this was an experiment to test one of my grandmother's frugal tips.  She frequently used beef heart for a budget friendly dish.
Honestly,  we both enjoyed it more than my original version.
Spezzatino Di Manzo — Grandmother Style
makes 1 huge dutch oven
2 lb beef, big cubes
1-2 lb beef heart, 1″x1″ inch cubes (or use all beef)
1-2 Tablespoons flour
olive oil, as needed
2 very large Vidalia onions, chunky dice
1 cup celer, diced
6 carrots, peeled and cut into big chunks
3 hot red banana peppers, chunky dice
3 cloves garlic, minced
1-2 glasses red wine (your favorite, nothing oaked)
3 cups tomatoes, chopped
3 Tablespoons paprika, sweet
1 teaspoon dried basil
1 teaspoon black pepper, freshly ground
1/2 teaspoon red pepper flakes
2 fresh bay leaves
1 teaspoon fine sea salt
beef stock, 2 cups, or as needed
1 lb small fingerling potatoes, washed and halved (another substitute for the beef heart)
In a large dutch oven, sauté beef in batches in enough olive oil to coat the bottom of the pan.  Remove as they brown.  Toss beef heart cubes in flour.  Sauté.  Add onions.  Continue to sauté for another minute or two.  Deglaze pan with wine.  Simmer briskly for 3-5 minutes.  Add all remaining ingredients.  Add beef stock as needed to reach within an inch of the top of the meat.  Bring back to a hearty simmer for 10-20 minutes in the unlidded dutch oven.
Meanwhile, heat oven to 325 degrees F.  When the pot comes to a simmer, place the lidded dutch oven in the oven and braise for 1-2 hours.  Stir every 20-30 minutes.  Remove lid after 1 hour to thicken sauce to your taste.
Serve immediately with grilled peasant bread drizzled with olive oil, salt, and coarsely grated black pepper.  Or, let cool, refrigerate, and serve the next day after bringing the stew back to a gentle simmer in the unlidded dutch oven.