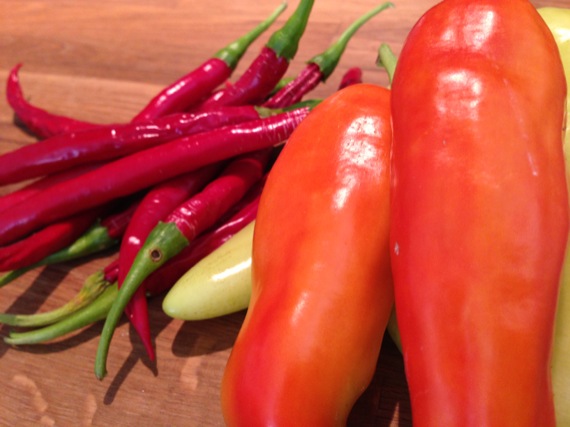 That's it.  Ten cayenne peppers, six hot banana peppers, and a handful of jalapeños make up the last of the peppers.  We were surprised to find even that many left on the plants.  And, they were shockingly healthy and gorgeous.  If we're lucky and it doesn't freeze, we might get 3 more cayenne peppers.
Quick Pepper Jelly
makes 1 large bowl
3 hot banana peppers, washed, seeded and diced
2-3 cayenne peppers, washed seeded and cut into thin rings
3 mild jalapeños, washed, seeded and diced
1/2 teaspoon black pepper, freshly ground
2 fresh bay leaves, mashed between your fingers
1/2 cup apple cider vinegar
1/2 cup brown sugar
1 – 12 oz jar apple jelly
Combine all in a medium sauce pan.  Bring to a hearty simmer.  Lower the heat and simmer for 5-10 minutes to allow flavors to blend.  Pour into a serving bowl and let chill.
Serve with grilled chicken.
(Or, use as a condiment for chicken and turkey sandwiches.)