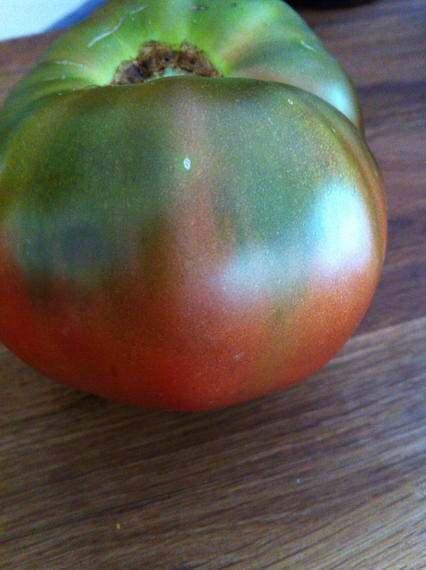 My First Black Krim Of The Season
This mammoth beauty demands attention.  Is there a better way to honor your garden (or local farmer's market) then to showcase the delicious flavors of summer?  I don't think so.  Eat these beauties now.  Far too soon, they'll be gone.
Tomato Sandwich
Makes 2 sandwich
4 pieces of toast, or sliced, divided and toasted baguette
homemade mayo, as much or as little as you like
1 giant Black Krim, thinly sliced, or your favorite heirloom tomato
fresh, tender basil leaves
fine sea salt, to taste
freshly ground black pepper, to taste
You know how to make a sandwich, right?  Slather toast, layer with tomatoes and basil leaves, sprinkle with salt and pepper, and slice.  This is definitely what's for lunch today!
Homemade Mayonnaise
makes around 1 cup
1 (perfectly fresh) large egg yolk
juice of 1/2 a lemon
1 heaping teaspoon Dijon Mustard
1/2 teaspoon fine sea salt, or to taste
1 clove roasted garlic
3/4 – 1 cup olive oil, delicate, light and fruity
In a blender, place egg yolk, lemon juice, mustard, salt, and garlic.  Puree.  Keep blender on puree and slowly drizzle in olive oil to form a dense mayonnaise.  Don't overbeat it.  Use immediately.  Or, this will remain delicious for 3-4 days in a very cold fridge.  (This might last longer for some.  For us, we think the flavors get a bit too funky tasting by the fifth day.  We've used it on the fifth day.  But, we've never enjoyed it.)
If you're not comfortable eating raw eggs, you can't verify the freshness of your eggs or have a compromised immune system, just don't make this.