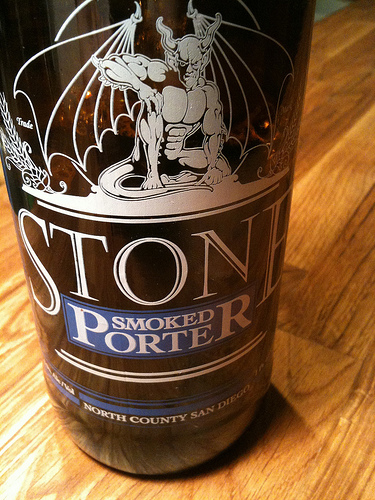 Stone's smoked porter was a perfect match for this rich savory stew.  The deep dark bitterness and smoky malt accented all of the natural sweetness in the vegetables and the rich meaty flavor of the veal stock.
Lentil Stew
2 lbs French lentils, washed
10 slices lean thick cut bacon
4 onions, diced
4-5 stalks of celery, thinly sliced
4-5 carrots, thinly sliced
5 cloves garlic, diced
3 TBSP sun-dried tomatoes, packed in oil, finely chopped
3 TBSP Italian parsley, finely chopped
2 fresh bay leaves
1 tsp basil, powdered
1/2 tsp thyme, powdered
1 tsp black pepper, freshly ground
1/2 tsp red pepper flakes
6 cups veal stock
3-4 TBSP red wine vinegar
1 cup water, if needed
Pan fry bacon until most of the fat is rendered and the bacon is deep brown and crisp.  Set bacon aside.  Discard all but 4 TBSP bacon fat.  Saute onions in bacon fat until golden brown.  Add sliced celery, carrots, and garlic.  Saute for an additional 3-4 minutes.  Add all of the remaining ingredients. (except water… add water only as needed) Bring to a simmer.  Reduce heat and allow to simmer gently for 2 1/2 hours, or until the lentils are tender.
Serve small bowls of lentil stew with bacon crumbled on top.