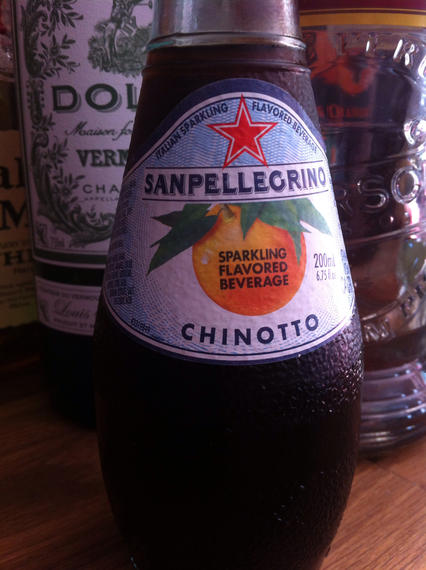 Wanna lounge around on a sunny weekend day?  Or, indulge in a brunch cocktail in the comfort of your own home, maybe?  This tasty bitter orange soda needs no embellishment.  But, if you're in the mood for a cocktail, this one makes a refreshing adult beverage on a warm and sunny day.
What's that?  It's raining?  Whip up a cocktail and watch the rain fall.
This is sure way to brighten up the weekend.
Chinotto Cocktail
makes 2 
2 ounces of your favorite vodka
1 – 2 Tablespoons basil syrup
1 200ml bottle chinotto
basil leaf or sprig, to garnish
ice, to fill
Fill two tall glass with ice.  Pour 2 ounces vodka and 1 Tablesoon basil syrup over the ice.  Top with chin otto.  Stir gently and give it a taste.  Then, if you want to add a bit more sweetness add another tablespoon of syrup.
Garnish each glass with a basil leaf.
Cheers!
Basil Syrup
Makes 1 over cup
1 cup water
1 cup basil, roughly chopped
1 cup sugar
Bring water to a boil.  Add basil leaves and sugar.  Stir and remove from the heat.  Cover and let sit until cool.  Pour into a glass measuring cup and refrigerate overnight.  Then, strain into a small pourable bottle.  Use as needed and keep refrigerated.