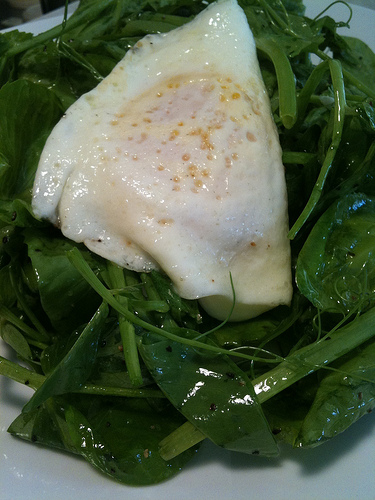 This wilted pea shoot salad makes a great base for a gently fried egg.  It's a perfect light meal for any time of the day.  But, I particularly enjoy this as a light breakfast.
Wilted Pea Shoot Salad
1 TBSP Olive oil
2 TBSP rice wine vinegar
a small splash of water
1 tsp Dijon mustard
1/2 tsp sugar
salt &  pepper, to taste
pea shoots, washed and torn into bite sized pieces
In your smallest saucepan or frying pan, combine all of the ingredients above.  Add salt & pepper to taste.  Allow the vinaigrette to reach a gentle simmer and drizzle it over your prepared greens.  Toss greens and allow to sit as you prepare your egg.  Top your wilted pea shoot salad with a gently pan-fried egg and buttered croutons.