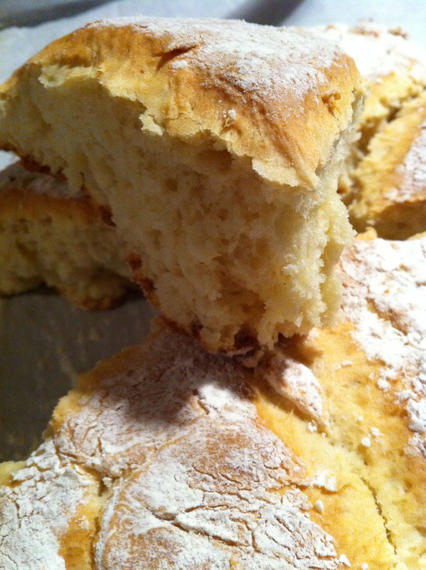 It's so easy.
In under 30 minutes from start to finish, we had warm scones in our hands and ready to be devoured.  This super simple recipe takes almost no effort.  And, the payoff?  Seriously good scones that rival a certain major coffee shop chain in your very own kitchen.
Enough talking, just do it already!
Buttermilk Scones
makes 6 giant scones
2 1/2 cups AP or cake flour
1 teaspoon fine sea salt
1/3 cup sugar
1 Tablespoon baking powder
6 Tablespoons butter
3/4 cup buttermilk
1 egg
Preheat oven to 375 degrees F.
In a food processor, pulse flour, sea salt, sugar and baking powder.  Add butter pulse briefly.  Add buttermilk and egg.  Pulse until batter comes together.  This should take less than 5 seconds.  If you pulse the batter too much, it will get tough and gummy or paste-like.  Flour your hands and turn batter onto baking sheet covered in parchment.  Pat gently into a round and cut with pastry cutter.  Bake at 375 degrees for 20-25 minutes.
(At the 10 minute mark, get that kettle on the stove.)
Let cool 5 minutes.  Then, break into wedges and slather with butter and jam.