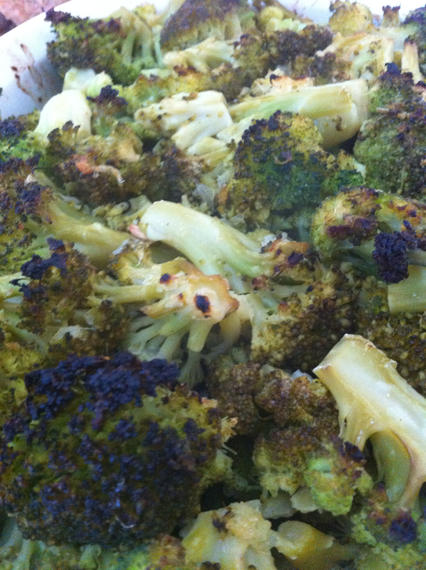 It's just not a holiday without broccoli.  Usually that broccoli is roasted.  But, it might be sautéed in olive oil with lemon, marinated for a cold salad, baked into a casserole, or shredded for slaw.
Every member of my family has a broccoli in one form or another on every holiday table.  That's just the way it is.
Roasted Broccoli
makes 1 baking dish
1 head of broccoli, cut into pieces or spears
1- 2 lemons, cut in half
your favorite olive oil
fine sea salt
freshly ground black pepper
Preheat oven to 425 degrees F.
Place broccoli in a baking dish.  Squeeze lemon over broccoli.  Drizzle generously (but, not excessively) with olive oil.  Sprinkle with fine sea salt and freshly ground black pepper.  Bake 20-25 minutes, or until edges just begin to char.
Leftovers?
Let's make one of the best leftover dish you'll ever eat.
1 box of penne
leftover roasted broccoli
1 lemon, sliced in half
butter, as needed
fine sea salt
freshly ground black pepper
Parmigiano Reggiano, shaved &/or grated
Cook pasta al dente.  Drain all but 1/2 cup or so of cooking liquid.  Combine pasta, cooking liquid, 3-4 Tablespoons butter.  Toss gently.  Add broccoli and squeeze lemon halves over pasta.  Sprinkle with salt & pepper, to taste.  Taste.  Add more butter or lemon juice to your taste.  Add a small amount of grated Parmigiano Reggiano.  Plate.
Serve with Parmigiano Reggiano on the side.  Let each diner add slivers or more grated cheese to their taste.
And, then.. Devour it!