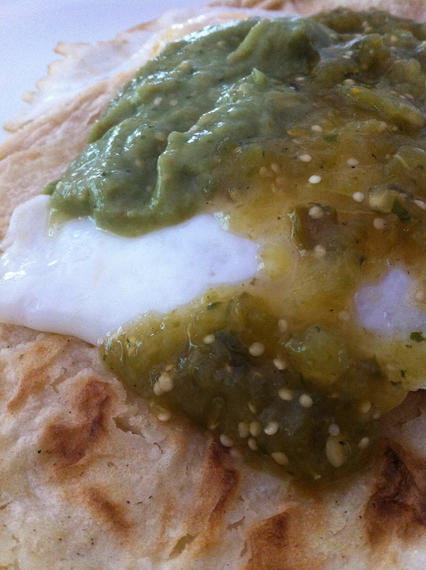 Two Types Of Green Salsa With Duck Eggs & Tortillas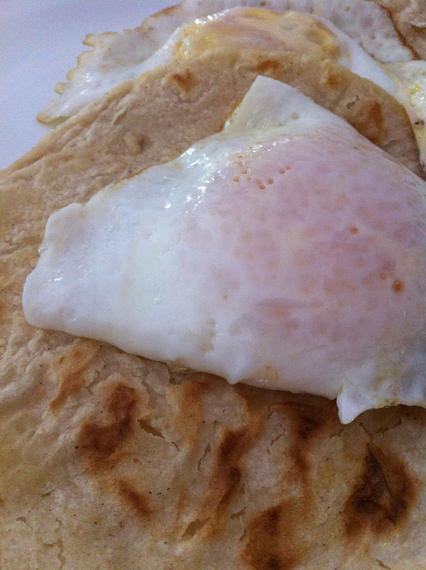 Have you ever seen a great deal at the farmer's market and thought to yourself, "That's great!  I wish I could buy a crate of tomatoes.  But, what would I do with that much?"  Well, you could freeze them.  Tomatoes freeze nicely.  Yes, you'll loose a bit of texture.   But, they'll do just fine in a sauce.  Tomatillos freeze well, too.  I like to roast or grill them in a big batches.  Then, I'll freeze what I don't need for a later date.  Simply, wash them well, half them and set them over a charcoal fire.  (Or, roast them in the oven … or grill them in a grilling basket.)  Set aside what you want to freeze until it all reaches room temperature.  And, package it up in small usable batches. I like to use 1/2 lb and 1 lb deli containers.  But, freezer bags work just as well.
Two Types of Green Salsa
Salsa Verde
makes over 3 cups
2 heaping cups of tomatillos, roasted or grilled
1 small Vidalia onion, roasted
2-4 roasted jalapeños
juice of one lime
1 clove of garlic, crushed
1 handful of cilantro
1/4 tsp black pepper, freshly ground
a pinch of white pepper, optional
fine sea salt, to taste
Place everything in a food processor and pulse until it reaches the consistency you prefer.
Remove about 2 cup and place into a small serving bowl.
Avocado Salsa
makes over 2 cups
2 small avocados or 1 Florida avocado, pitted and scooped
1 cup Salsa Verde (above)
fine sea salt
black pepper, freshly ground
a pinch of cayenne
juice of 1/2 a lime, if desired
Add avocados to the food processor and pulse.  Taste.  Add salt, pepper and cayenne to taste.  Add more lime juice, if you like a lot of citrus flavor.  Pour into a small serving bowl and serve.
Serve with pan-fried eggs (or grilled chicken, beef or pork) and corn tortillas.