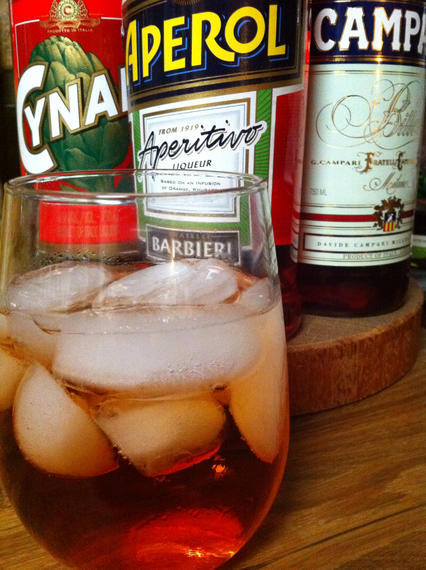 The traditional Aperol spritz is an absolutely delicious cocktail.  It's refreshing with a lovely (yet, delicate) tart bite to it.  But, Gabe Thompson's version shines the light directly on the Aperol.  It's all bright, bitter orange.  Aperol is a fabulous spirit that is seriously worthy of more attention.  I absolutely love it.  If you don't have Prosecco on hand, give Aperol a try by adding a splash or two to club soda or ginger ale on ice.  You'll be a convert…. guaranteed.
This is a perfect drink for the holidays.  It's easy to produce en masse and it's appropriately festive.
Gabe Thompson's Aperol Spritz
(From Food & Wine)
makes 2
6 ounces Aperol
2 ounces Prosecco
2 ounces club soda
lemon twist
In each ice filled rock's glass, pour 3 ounces Aperol, 1 ounce Prosecco, and 1 ounce club soda.
Garnish with lemon twist.
Cheers!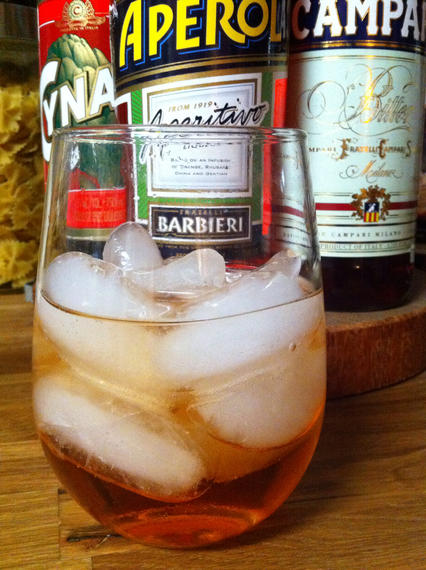 Whoops!  Forgot the garnish…again.  Oh well, it was still perfectly divine.