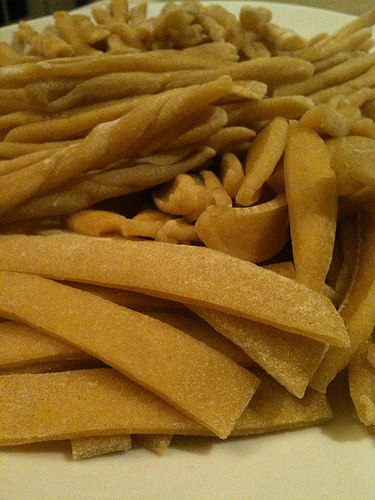 Strozzapreti & Maltagliati
Both of these pasta "shapes" take more than one form.  Maltagliati refers to any misshapen or badly cut pasta form.  Most frequently maltagliati is made by cutting hand rolled pasta into a variety of shapes.  Wide strips, diamond shapes, triangular shapes or wedge shapes are common.  But, flattened logs of dough can be thinly sliced to form what looks like a flattened cavatelli.  I prefer the last of these alternatives because you can whip out a ton of pasta in no time.  Whatever shape you choose, keep them uniform in size and thickness for even cooking.
Strozzapreti (or priest-chokers) also take on more than one form.  Most varieties require hand rolled pasta cut into rectangular strips cut the length of your finger.  Those strips are then either rolled & twisted or rolled & knotted.  The rolling doesn't create a log of pasta… it creates a thin sheet that is wrapped around itself.  The nooks and crannies you create make nice pockets to catch & hold the sauce.  In my family's neck of the woods (the Campania region), this would be a hearty ragu.
Strozzapreti
makes 4-6 servings
2 cups AP flour
1/2 cup semolina flour
2 whole eggs
1 egg yolk
1 tablespoon melted lard (I substituted a drizzle of olive oil this time)
Combine AP flour and semolina in a large mixing bowl.  Make a well in the center and add eggs, egg yolk, and lard (or olive oil).  Stir to form a ball.  Then, turn the dough out onto a large wooden board and knead until a smooth elastic ball forms (3-5 minutes).  Shape the dough into a flattened rectangle and wrap the dough in plastic and let it rest for at least 45 minutes.
Cut the dough into four squares and roll the first piece with a rolling pin to form a thin sheet. Cut that sheet into strips and then cut those strips into finger-sized rectangles.  Take one rectangle and place it in the palm of your hand.  Use your other palm to roll the piece of dough into a rough cylinder.  Then, give it twist and set aside on a wooden cutting board to dry.  Repeat the process with all of your dough.
Maltagliati
Leftover scraps can be cut into strips, diamonds, and triangles.  Or, the last square can be rolled into a log, flattened and sliced into thin roughly oval (actually more like half-moon) shapes.