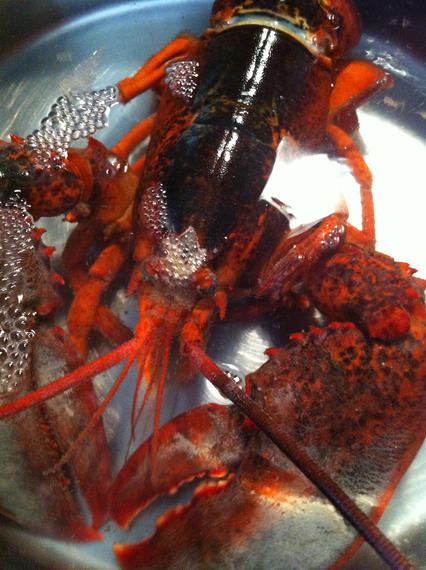 Back in the day, lobsters were poor man's food.  …Or, so I've been told.
Those were the good ole days.  In my life, lobster has always been an extravagence.  Even now, with the prices dipping it will always have the quiet vibe of indulgence.  On a day when I want to feel special, I like to whip up this old-timers meal based in necessity.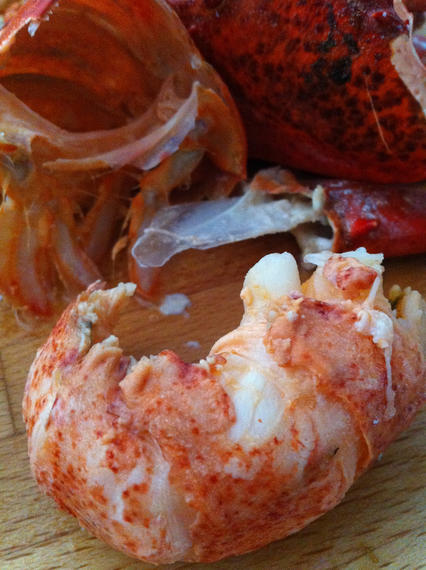 And, for this poor man's dish, the lowly chicken lobsters are perfectly appropriate.  They're small, quick to cook and quite tender.  One lobster makes one sandwich.  That's easy math.
The Lobster Roll
1 small lobster, boiled 10-15 minutes depending on size
(cleaned and torn into bite sized pieces)
1 heaping teaspoon homemade mayo
lemon wedges
fine sea salt
freshly ground black pepper
1 brioche hot dog bun
In a small bowl, toss lobster pieces with 1 heaping teaspoon of mayo, the juice of one or two lemon wedges, a light sprinkle of salt and a healthy grinding of black pepper.  Set aside.
Slice hot dog bun down from the top… lengthwise down the center (through the top from end to end).  Butter a hot griddle.  Toast bun until light golden brown.  Place on serving dish and allow to cool for 1 minute.  Fill with lobster.
It's lunchtime!