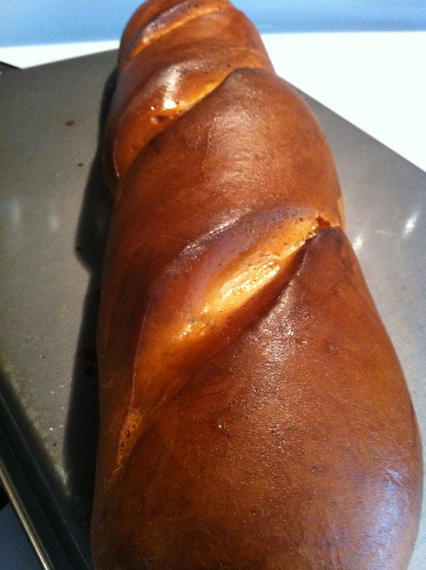 This simple loaf brushed with milk developed a deep brown, crisp crust.  I'll probably omit this step next time.  That crisp, dense crust cuts nicely to reveal a soft interior.
Sliced on the diagonal this loaf will easily make a dozen slices for the bread basket or divide into 4-6 pieces for sandwiches.
Simple Sandwich Roll
makes 1 large roll
2 1/2 – 3 cups bread flour, plus additional as needed
1 teaspoon yeast
1 1/2 teaspoon fine sea salt
1 cup warm water
1 Tablespoon olive oil, and as needed
Combine all ingredients.  Cover & let rest 20 minutes.  Knead.  Shape into ball and brush with olive oil.  Place in a glass bowl and cover overnight.  Knead.  Shape.  Let rise for at least 1 hour.  Cut slits with a razor.
Preheat oven to 425 Degrees F.
Place loaf in the oven and mist.  Bake for 5 minutes.  Mist again.
Bake at 425 degrees F for 30-35 minutes.