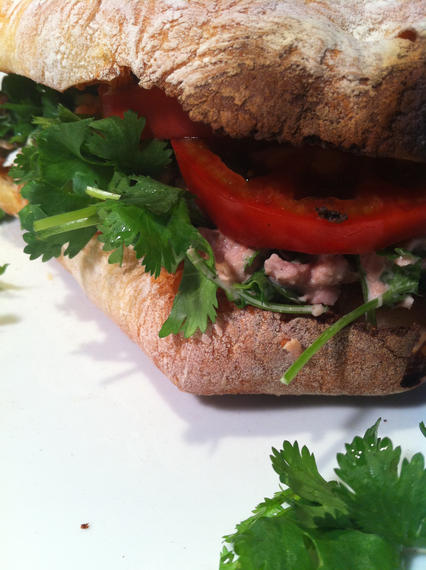 The last few tomatoes have been some of the sweetest of the season.  This simple sandwich beautifully showcases their stellar quality.
Tuna Cilantro Ciabatta
makes 2
1 jar Italian oil-packed tuna, flaked
2 big handfuls of cilantro
(one handful roughly chopped & one handful barely chopped)
juice of one lemon
celery seed, freshly ground
red wine vinegar
olive oil
fine sea salt
black pepper, freshly ground
tomato slices
2 ciabattas, halved length-wise and toasted
In a small bowl, flake tuna gently and toss it with the roughly chopped cilantro, the juice of one lemon, a generous sprinkling of ground celery seed, a light sprinkle of fine sea salt and several generous grinds of fresh black pepper.  Set aside.
In another small bowl toss the barely chopped cilantro with a splash of red wine vinegar, olive oil, a sprinkle of fine sea salt, and freshly ground pepper.  Set aside.
Toast ciabattas.  Equally distribute tuna between two sandwiches.  Top with cilantro and tomato slices.
Cut on the diagonal.