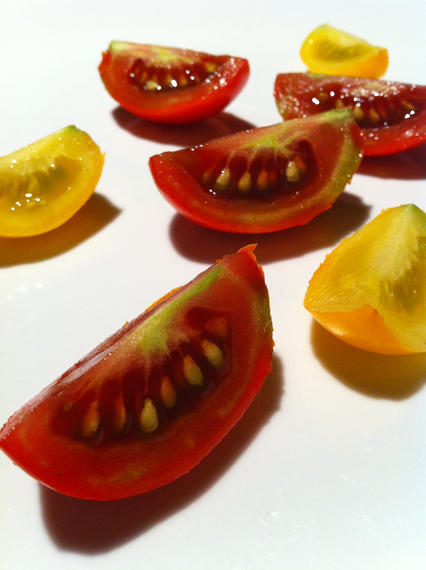 These black plum tomatoes are even more beautiful in real life.  I was unable to capture the deep emerald green under the line of seeds.  They're a stunning addition to any salad.  And, the flavor is unbelievable.  It would be a shame to lose that rich tomato flavor.  So, this simple salad shows off that flavor to perfection.
This is a great way to use what's left of yesterday's baguette sitting around on the countertop, too.  This is a rustic salad.  Don't bother fussing with it to make it pretty.  Just scatter a few whole basil leaves on top.
Panzanella
makes 1 big bowl
1/2 baguette
olive oil
1 clove garlic, peeled
3 black plum tomatoes, quartered
6-8 cherry tomatoes, halved (yellow, red & green)
1/2 lb mozzarella balls (cherries, pearls or whatever you like to call them)
olive oil
splash red wine vinegar
one handful basil, roughly chopped
1 garlic clove, peeled & mashed to a paste with 1/4 tsp salt
Salt & Pepper, to taste
basil leaves, stems removed
balsamic vinegar, optional
Preheat oven to 400 degrees F.
Slice baguette in half.  Lightly brush with olive oil.  Sprinkle with salt & pepper.  Toast in the oven for 4-5 minutes, or until light golden on the cut half.
While the baguette toasts, toss mozzarella balls with olive oil, a tiny splash of red wine vinegar, basil, garlic, salt and pepper.  Set aside.
When the baguette comes out of the oven, brush the remaining garlic clove over the toasted surface of the baguette.  Slice into bite-sized pieces and place in a large salad bowl.  Add mozzarella balls.  Toss.  Add another little splash of olive oil and a tiny splash of red wine vinegar, if needed.  Top with sliced tomatoes.  Toss gently.  Scatter basil leaves on top.
After serving, add tiny dots of balsamic vinegar to each individual serving bowl, if desired.