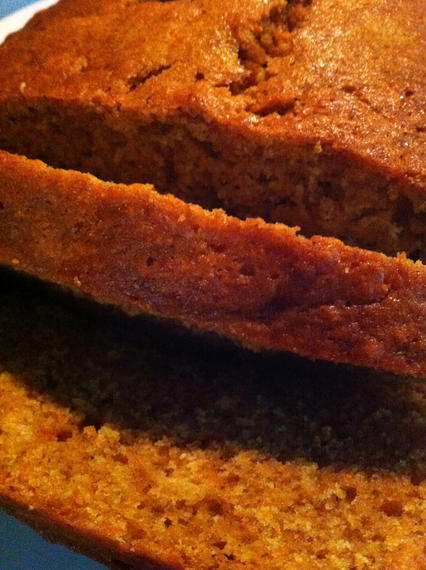 This simple loaf smells like banana bread.  But, it tastes more like carrot cake.
Carrot Banana Bread
makes one full-sized loaf
2 carrots
2 bananas
1 cup sugar
2 eggs
1 teaspoon vanilla extract
1/3 cup vegetable oil
2 cups AP flour
1 teaspoon cinnamon
1 teaspoon baking powder
1/2 teaspoon baking soda
1/4 teaspoon fine sea salt
Preheat oven 350 degrees F.
In a food processor, pulse carrots until very finely chopped.  Add bananas, sugar, eggs, vegetable oil, and vanilla extract.  Pulse until well-combined.  Briefly, set aside.
Combine flour, baking powder, baking soda, cinnamon and fine sea salt in a large bowl.  Stir vigorously with a fork.  Add wet ingredients.  Stir gently and briefly… just until combined.
Pour batter into buttered loaf pan and place in preheated oven.  Bake at 350 degrees F for 55-60 minutes.