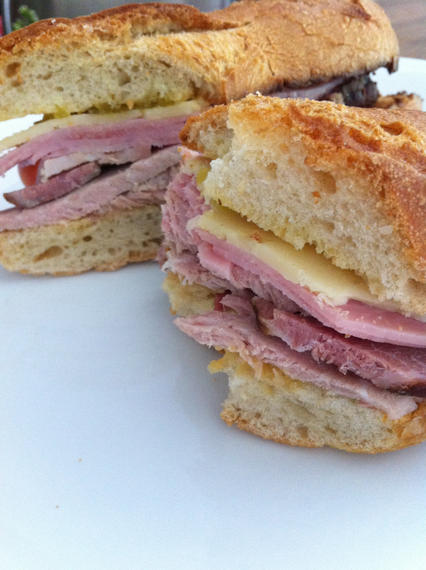 The search to find good Cuban bread in Atlanta is a serious challenge.  So, until I learn to bake my own, I'll be substituting my favorite baguette in its place.  Since this is "almost" a Cuban sandwich, I've also decided to crisp my baguette in the oven in lieu of pressing my sandwich.  And, since I'm not pressing my sandwich, I've also omitted the butter.  A traditional Cuban sandwich may have butter both inside the sandwich and the press or griddle may be brushed with butter.
My Cuban Sandwich
1 portion of baguette, sliced lengthwise
2-3 slices roast pork (Here, I'm using smoked pork.)
2 slices boiled ham
1 slice Emmentaler Cheese
mustard
razor thin slices of dill pickle
Preheat oven to 425 degrees F.
Place the sliced piece of baguette in the oven.  Toast until golden brown and crisp (approx. 4-5 min).  Spread a thin layer of mustard on both sides.  Layer sandwich with pork, ham, Emmentaler and thin pickle slices.  Slice.
Serve immediately with a pickle wedge or two.