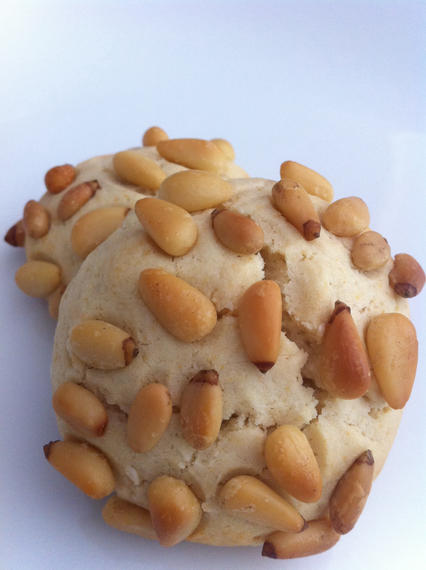 Biscotti con Pignoli
In our house, these are devoured at light speed.  And, snack time nibbles quickly turn into meals after a cookie or two too many.  So… Fair warning!  Be prepared to spend some extra time on the treadmill after baking these little beauties.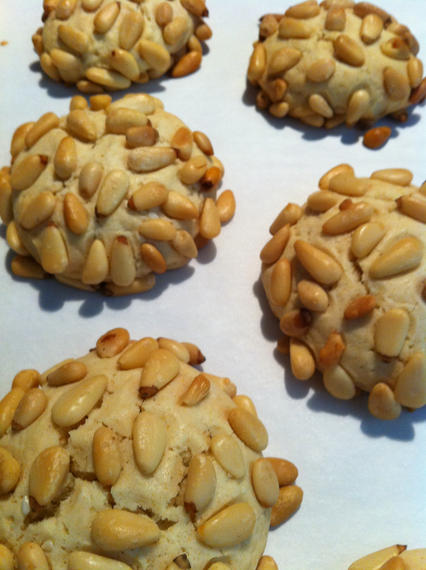 Biscotti con Pignoli
makes 40-45
1 cup butter, unsalted
2 cups 10x sugar
1 large egg
1 teaspoon vanilla
1 teaspoon almond extract
1/2 cup whole milk
4 cups AP flour
1 cup blanched almonds, finely ground
1/2 teaspoon fine sea salt
1/2 teaspoon baking powder
1 cup pine nuts, or as needed
Cream butter, sugar, egg, and extracts.  Set aside.
Sift flour, salt, and baking powder in a small bowl.  Then, add 1/3 flour mixture to creamed mixture.  Combine.  Add 1/4 cup milk and another 1/3 flour mixture.  Combine.  Add remaining milk and flour mixture.  Stir briefly to combine.
Preheat oven to 350 degrees F.
Place pine nuts in a shallow bowl.  Roll dough into walnut-sized balls.  Then, roll in pine nuts.  Gently pat nuts into cookies and place on parchment lined baking sheet.  Fill baking sheet and bake at 350 degrees for 15 minutes, or until cookies are light golden at the edges.  Allow to cool on baking sheet at least 15 minutes.
Dust with powdered sugar, if desired.