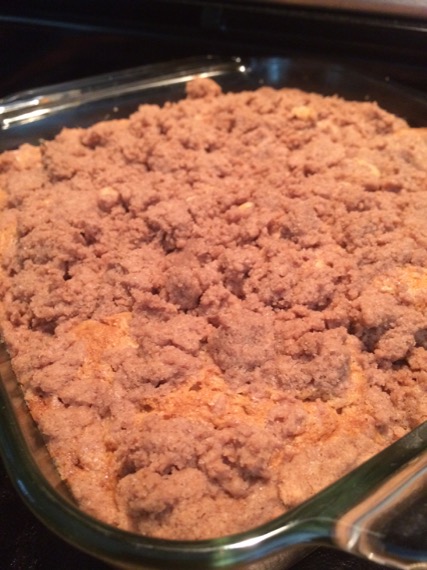 Crunchy crumbs straight out of the oven with tender fluffy cake on the bottom, but, wait!  You'll want to wait about an hour to eat this cake.  It was a pleasure to eat warm with the light, flaky crumbs melting under my bite.  Sweet cinnamon cake and a good cup of coffee, that's a match made in heaven.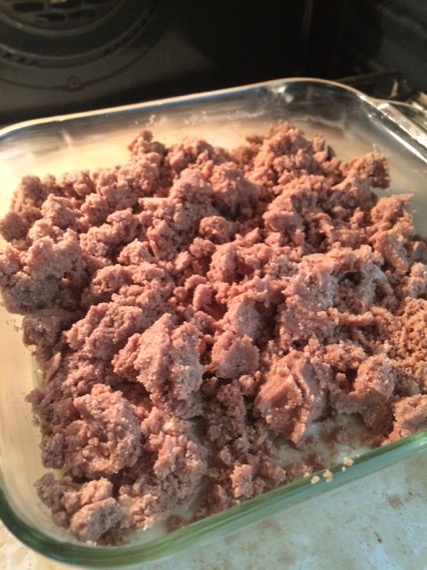 Cinnamon Crumb Cake
makes 1 – 8×8 inch baking dish
1 1/2 cups AP flour
1 tsp baking powder
1/4 teaspoon baking soda
1/2 tsp fine sea salt
1/2 cup butter, soft, 8 Tablespoons
3/4 cup sugar
1 egg
1 teaspoon vanilla
1/2 cup sour cream (+1 TBSP, roughly)
1/4 teaspoon cinnamon
Crumb Topping:
1 cup AP flour
1/2 cup sugar
1 Tablespoon cocoa
1/2 teaspoon cinnamon
1/4 tsp fine sea salt
6 Tablespoons butter, soft
Preheat oven to 325 degrees F.
Sift dry ingredients in a small bowl.  Set aside.  In a large mixing bowl, cream butter, sugar, egg, vanilla, and cinnamon.  Combine dry ingredients with the wet.  Pour  batter into well-buttered baking dish.  Combine crumb mixture in a small bowl.  Top cake batter with thick crumbs of the mixture.
Bake at 325 degrees F for 60-63 min in 8×8 inch baking dish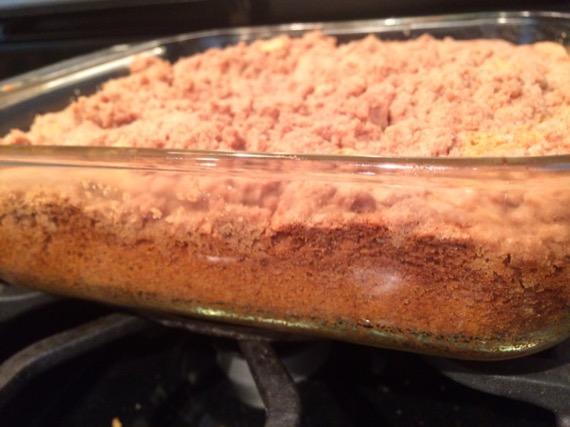 Very nice rise and light golden brown edges, this is going to be a new favorite…
We're sure of it.