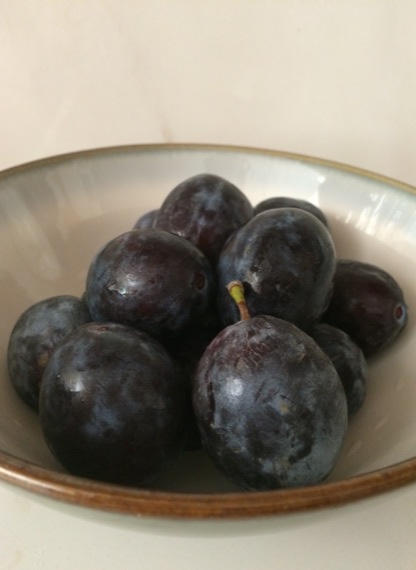 Plum compote or a chunky plum jam (like this) could easily be used in the place of fresh plums.  But, it will be very sweet.  A small spoonful served warm with vanilla ice cream would be best.
Brown Butter Rum Plum Cobbler
makes 1 large dish
1 stick (1/2 cup) butter
1/4 cup rum
1 1/2 cups AP flour
1 1/2 cups sugar, divided
1 tablespoon baking powder
1/2 teaspoon fine sea salt
1 cup whole milk
12 plums, quartered
1 teaspoon vanilla extract
1/2 teaspoon cinnamon
Preheat oven to 375F.
In a saucepan, melt the butter over medium heat.  Continue to brown and swirl the butter until it's a deep golden color and smells a bit nutty.  Remove from heat and add rum.  Swirl.  Pour the brown butter mixture into a deep casserole dish.
In a medium bowl combine the flour, 1 cup sugar, baking powder and salt.  Stir to combine.  Pour in the cup of whole milk and stir until just combined.  Pour the batter into the baking dish over top of the butter mixture.
In a large bowl, combine plum slices, the remaining 1/2 cup of sugar, vanilla and cinnamon.
Spoon the plums and all their liquids evenly over top of the batter. Bake in preheated oven for 40-50 minutes.  Allow to cool for 10 minutes before serving. Top with whipped cream.