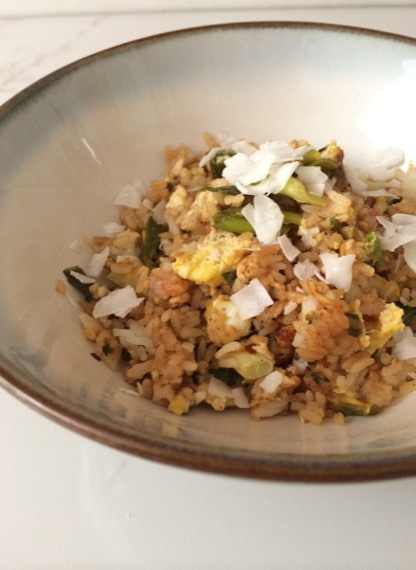 I love all things Malaysian.  And, this dish is one of my favorites.  Though, it never comes close to the version at my favorite restaurant.  But, when I'm trying to fill a craving, this is a decent substitute.
Nasi Goreng
makes 2 servings
2 cups cooked jasmine rice, leftover works perfectly
2 Tablespoons sesame oil
(or, 1 TBSP coconut oil & 1 TBSP sesame oil)
5 scallions, sliced into pieces
2 cloves garlic, minced
3 eggs, scrambled
2 Tablespoons fresh chives, chopped
2 Tablespoons coconut flakes, natural
1/4 – 1/2 teaspoon red pepper flakes
2 Tablespoons soy sauce
2 Tablespoons chicken stock
1 Tablespoon rice wine vinegar
1 Tablespoon dark roasted peanuts, chopped
(chunky peanut butter makes a decent substitute)
1 teaspoon palm sugar, or brown sugar
1 teaspoon fish sauce
1/2 teaspoon fine sea salt
juice of one lime
1/4 teaspoon black pepper, freshly ground
To Garnish:
darkly roasted peanuts, whole or chopped
coconut slivers or flakes, natural
In a measuring cup, combine soy sauce, chicken stock, rice wine vinegar, peanuts, sugar, fish sauce, salt, lime juice, and black pepper.
In a wok, stir fry scallions briefly.  Add garlic.  Stir.  Then, add eggs and scramble.  Then, add chives, coconut, and red pepper flakes.  Stir fry.  Add sauce, as needed.  Stir to combine.  Plate and garnish with peanuts and coconut slivers.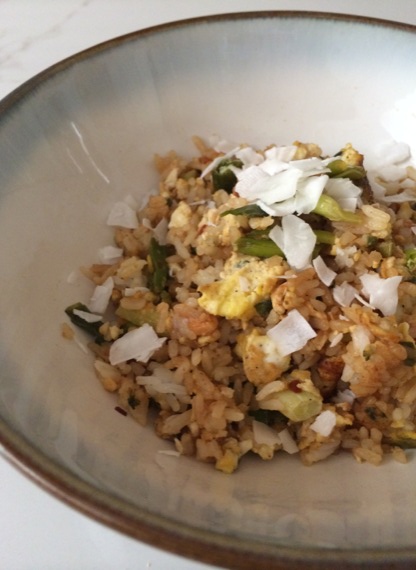 I added about 2 tablespoons of fresh chives.  But, Chinese garlic chives would be more appropriate to this dish.