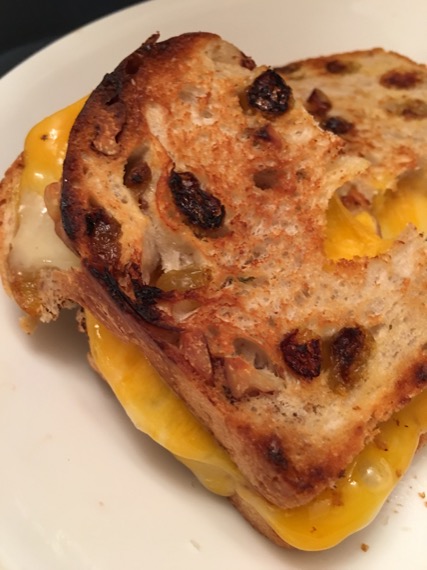 For me and my honey, the key to a perfect grilled cheese sandwich is a scant amount of butter on the griddle.  So little, in fact that the bread appears to simply be toasted on the griddle.  And, we like to toast the bread to a deep golden brown.  The two types of cheddar meld together and become one delicious gooey cheese.  Cheddar makes a lovely grilled cheese.  The two types of sharp cheddar (Cave Aged White Cheddar & Extra Sharp) stuff this candied lemon and walnut bread with raisins and dried apple pieces.
Three ingredients make the best sandwich.  The tiniest amount of butter, bread, and cheese… that's it.  Quality ingredients need no embellishments.
Grilled Cheese On Lemon Walnut Bread
makes 2 sandwiches
4 slices lemon walnut bread
Cave aged cheddar crumbs
Extra Sharp Cheddar
unsalted butter, about 1 teaspoon for the whole griddle
Heat griddle to a moderate heat.  Butter.  Scrape excess butter off to the side.  Toast each side of the bread on the griddle.  Place cheese pieces on 2 pieces of toasted bread while the second side toasts on the griddle.  Cover the sandwich with the remaining bread slices.  Flip to evenly brown and toast the outer edges.  Slice and devour immediately.
Serve each sandwich with thick slices of ripe pear.